Miami Lawyer, Dennis Haber, is a flight enthusiast. The Pinecrest resident flies his single engine Cirrus SR22 out of Miami Executive Airport and uses his plane for both business and pleasure.
Haber began flying when he was just a kid and honed his skills during the Vietnam War. For Haber, flying is a great escape from the hectic nature of life on the ground.
"As a business, real estate and aviation lawyer, I have hearings all over the state," he said. "The airplane allows me to get there and get back in the same day. It's much more cost efficient for my clients. No overnight stays, and the gas burn rate is about the same as a SUV, about 15 MPG."
A husband and father, Haber enjoys being high in the clouds where there is no traffic, no hustle and bustle, just the peaceful sound of the engine and the sound of music in his headset.
"I fly in a straight line with no traffic," he said.
Aaron Glickman met up with Haber early on a Saturday morning at Reliance Aviation, an FBO at Miami Executive, to tag along with a group of pilots who regularly meet and fly to different cities for breakfast.
This particular Saturday brought the gang to Lakeland, Florida where the breakfast crew told stories about their love of flying.
During the journey, Haber and Glickman indulged in their usual political debate, where Glickman normally takes a view slightly to the left, and Haber tends to lean to the right. The clouds made for the perfect backdrop for such discussion.
Flying with Haber was Photographed by Gabriel Soyka.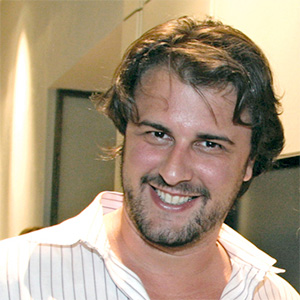 Aaron Glickman is a Miami native. After earning his degree in theatre from Florida State University, Aaron headed west to Los Angeles where he lived and worked for a decade. In 2006, he came home to launch Luxury Condo Living magazine – a print publication that covered the luxury condo lifestyle. As the impending real estate crash loomed, Aaron identified SocialMiami, a society blog with highly targeted following. After creating a business strategy designed to transform the platform into an online glossy magazine, Aaron became publisher, and the platform increased in revenue and site visitors by 10 times. He developed partnerships and marketing strategies with many of Miami's most powerful brands, and created viral editorial strategies that highlighted the city's greatest influencers. Additionally, Aaron became more involved with his community, sitting on committees and raising funds for Baptist Health, Miami Children's Museum, Miami Children's Hospital, YoungArts and many more. Aaron is currently a board member of Miami Theater Center and in 2015 was honored as a Miracle Maker by the Women's Committee of Big Brothers Big Sisters of Greater Miami. That same year, Aaron returned to the stage playing Richard Sherman in The Seven Year Itch at Miami Theater Center. His new media venture, Current.Miami, is a video-based digital media platform with an emphasis on storytelling.