Current.Miami takes you into the Perez Art Museum Miami's (PAMM) Art Detectives program, a first of its kind in the nation, which promotes critical and timely dialogue between community youth and police. The goal of the program is to create new channels for community interactions – particularly between youth and law enforcement officers-that provide a foundation for mutual understanding and respect. Through this innovative program, PAMM teaching artists, The Links, Inc., Greater Miami Chapter, Miami-Dade Police Department, students and Americorps volunteers from Breakthrough Miami, work together to build relationships using art as a catalyst.
– "We are not so different after all." – Shia Webster
In this segment, Current.Miami introduces you to the program through the eyes of one of its participants, middle school student Shia Webster, who tells Current.Miami how the program helped her overcome a traumatic childhood experience with law enforcement.
"We are all one as a community." – Officer Stephen Marshall
You also meet two of the participating officers who explain how the program has helped break down barriers.
Shia Webster: Police cut my mom off from the front and the back and they were telling my mom to stop the car. So then my mom turned the car off, the doors unlocked and they were pointing guns at the door and they opened my door and were telling me to get out.
Adrienne Chadwick: We work with students from Breakthrough Miami and The Miami Dade County Police department, along with Links members, and PAMM facilitators to create dialogue using contemporary art.
Webster: I was scared because I was eight and I didn't really know what was happening. So I didn't know whether, like, should I just listen because they're authority or should I just stay because when I'm scared I feel like about to freeze.
Webber Charles: So Shia Webster is a student that we recruited from Laura Park. She has a way of being authentic that is charming and when she tells you a story she says it with an air of lightness that's disarming but when it lands you're like "Did she really just say that a cop pulled a gun out on her face?" … and she's okay with that. And she's okay with telling you that "I don't like cop – and I had a bad experience with cops – and I listen to the N.W.A. because I'm angry about what they did to me and my mother."  So she doesn't sugar coat that. And so, when she showed up here for the first day of the pilot and saw the police walking around she was visibly upset.
Officer Stephen Marshall: We get to share with them that not all cops are bad. And that not every situation is the same. On the flip side to that share with us that not all people are bad. And there are some young people who are experiencing some troublesome time. Going through things and issues in their homes or psychologically. And so it helps us break down those barriers that we both set up.
Officer Mercy Rodriguez: And I think that leaving that environment and coming together in a neutral environment like this really bridges that gap that we have.
Museum presenter: What relationship do you think the shape and the colors have?
Student: A good one
Museum presenter: A good relationship.
Donna Ginn: The notion of bringing together the young people and the police particularly when you think about what has happened over the last couple of years in predominantly African American communities and to some extent maybe in Latino communities – bringing these kids together with the police and telling them both see: "Who are you?" as young people and for the young people to see well, who are the police as people not just as officers.
Chadwick: We had a pilot program in September prior to receiving funding. We went out to one of the schools. We made some changes based on that pilot program. We decided that it was important that we added an additional day. So now the program instead of having two days, the program will have three days where the students and all of the partners meet at the school site then they come to Perez Art Museum Miami, and they'll follow up with the final session over at their school.
Charles: It's a truth seeking project that striping away. So it's not about us creating relationships and building relationships. It's more about providing the students a space and the police officers a space where they can work with the children through art inquiry and start to move some of the layers.
Officer Marshall: We can all come together, we're all one as a community.
Charles: It's all through art. 'Cause art is truth seeking, right?
Officer Rodriguez: Today we actually did a little exercise where we wrote something we thought about today. About the program. Basically what I wrote was: seeing things together through a different light and we're all looking at the same thing and we're all coming together as one to look at the same piece and seeing everything together as an equal.
Webster: It was when PAMM came to Ransom we had to make our dream board. And I found a quote I think it says I don't want to have a perfect life, I want to have a happy life and then we put that in the middle and then everybody agreed with it so we started connecting stuff with it. Everybody liked that quote. The police were saying that was a really good quote. So I was thinking we're not so different after all. We may be different, but we're not so different.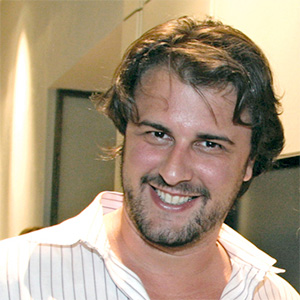 Aaron Glickman is a Miami native. After earning his degree in theatre from Florida State University, Aaron headed west to Los Angeles where he lived and worked for a decade. In 2006, he came home to launch Luxury Condo Living magazine – a print publication that covered the luxury condo lifestyle. As the impending real estate crash loomed, Aaron identified SocialMiami, a society blog with highly targeted following. After creating a business strategy designed to transform the platform into an online glossy magazine, Aaron became publisher, and the platform increased in revenue and site visitors by 10 times. He developed partnerships and marketing strategies with many of Miami's most powerful brands, and created viral editorial strategies that highlighted the city's greatest influencers. Additionally, Aaron became more involved with his community, sitting on committees and raising funds for Baptist Health, Miami Children's Museum, Miami Children's Hospital, YoungArts and many more. Aaron is currently a board member of Miami Theater Center and in 2015 was honored as a Miracle Maker by the Women's Committee of Big Brothers Big Sisters of Greater Miami. That same year, Aaron returned to the stage playing Richard Sherman in The Seven Year Itch at Miami Theater Center. His new media venture, Current.Miami, is a video-based digital media platform with an emphasis on storytelling.