Academics in Bed: Tom Healy & Seth Cameron
Nina Johnson hosted a discussion between Seth Cameron and Tom Healy. Their talk centered around Cameron's current exhibition Measure for Measure.
Born in 1982 in South Carolina, Cameron studied at The Cooper Union for the Advancement of Science and Art where he now leads The Intradisciplinary Seminar.
He lives and works in Brooklyn as a founding member of The Bruce High Quality Foundation and president of the collective's free art school, BHQFU. He is a frequent lecturer on the international alternative arts education circuit, a sometimes professor of creative writing and experimental art history, and a contributor to The Brooklyn Rail.
Healy is a writer and teacher who has been active in the arts for more than 25 years. He chaired the board of the public arts organization Creative Time for over a decade. He served on the White House Council on HIV/AIDS under President Bill Clinton and was chairman of the Fulbright Scholarship board under President Barak Obama.
As an art dealer in the 1990's, Healy pioneered a new gallery district in Chelsea, Manhattan. In 2005, Healy was awarded the New York City Arts Award by Mayor Michael Bloomberg for his leadership in rebuilding New York's downtown arts community after 9/11.
Healy has also been a Harriet Monroe Fellow of the Poetry Foundation and a visiting curator of the Miami Book Fair. He serves as a board member of the Bruce High Quality Foundation University and O, Miami Poetry Festival. As a professor he has taught at NYU, Pratt, and the New School. He is the author of three books of poetry and a forthcoming collection of essays, The Rest of the World.
Healy is currently the director of The Word from Brooklyn, a new public conversation series at the Brooklyn Museum. He lives primarily in Miami and New York.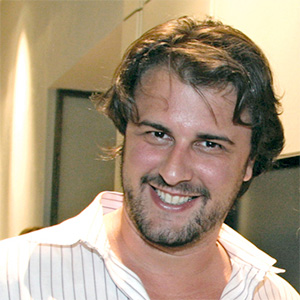 Aaron Glickman is a Miami native. After earning his degree in theatre from Florida State University, Aaron headed west to Los Angeles where he lived and worked for a decade. In 2006, he came home to launch Luxury Condo Living magazine – a print publication that covered the luxury condo lifestyle. As the impending real estate crash loomed, Aaron identified SocialMiami, a society blog with highly targeted following. After creating a business strategy designed to transform the platform into an online glossy magazine, Aaron became publisher, and the platform increased in revenue and site visitors by 10 times. He developed partnerships and marketing strategies with many of Miami's most powerful brands, and created viral editorial strategies that highlighted the city's greatest influencers. Additionally, Aaron became more involved with his community, sitting on committees and raising funds for Baptist Health, Miami Children's Museum, Miami Children's Hospital, YoungArts and many more. Aaron is currently a board member of Miami Theater Center and in 2015 was honored as a Miracle Maker by the Women's Committee of Big Brothers Big Sisters of Greater Miami. That same year, Aaron returned to the stage playing Richard Sherman in The Seven Year Itch at Miami Theater Center. His new media venture, Current.Miami, is a video-based digital media platform with an emphasis on storytelling.