While in Miami for the Alvin Aily American Dance Theater's performances at the Adrienne Arsht Center for the Performing Arts, the company's director, Robert Battle, went back home to Liberty City and the African Heritage Cultural Arts Center.
While there, Battle interacted with many of the locals before engaging in a discussion with the center's Cheryl Mizell. He also gifted personalized copies of his book, My Story My Dance, to all of the children in attendance.
A true role model for the kids in Liberty City, Battle is joined this year by Tarell Alvin McCraney and Barry Jenkins from the movie Moonlight as locals who have battled their ways to the top of their professions.
Transcription:
Battle in Liberty City
Robert Battle: Often Times you only hear the headlines that are negative about Liberty City. So I think that it is a wonderful time that this convergence of the movie Moonlight of Terrell and Barry, myself and what we're doing. And how we represent where we come from and we don't forget where we came from.
Marshall Davis: It a wonderful experience to have Robert back returning to the place that got him started with dance, and you know we are very proud and excited about his career and all the things that he's doing. What better place is there for him to come back to than here at the African Heritage Cultural Arts Center.
Battle: We were bussed to a free student performance much like the one we will be doing while we are here at the Adrienne Arsht. I saw Revelations, Alvin Ailey's masterpiece that he created in 1960 to tell the story of African Americans in this country and how we overcame hate and bigotry through our faith in God. And I connected with it. I connected with it and it made me want to do even greater things. Everytime I come back as the artistic director of the Alvin Ailey American Dance Theater, the theater that I saw when I was growing up here, to me it's like, it's a full circle moment every time I come back here. It really is.
Tradon Whyms: I'm very inspired because like he went high and he published his books and he became famous and so to be in his presence is an honor.
Ciana Holland: My daughter has always had a passion for dance and there is no one else I would rather have her meet.
Cheryll Mizell: Often times because it's, you know, in the part of the city, we don't always have all the fancy technology and all the fancy tools that may be available in other parts of town, but still we rise, you know, as Maya Angelou said. And despite all those things we have this kind of talent, I mean this caliber of talent, on a national scale to be representing The African Heritage Cultural Arts Center.
Battle in Liberty City was produced by Aaron Glickman with still images and videography by Giovanni Mendez. Special thanks to the Alvin Aily American Dance Theater and The African Heritage Cultural Arts Center for providing us with the access to Mr. Battle.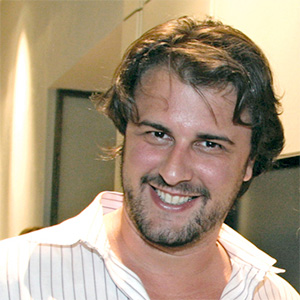 Aaron Glickman is a Miami native. After earning his degree in theatre from Florida State University, Aaron headed west to Los Angeles where he lived and worked for a decade. In 2006, he came home to launch Luxury Condo Living magazine – a print publication that covered the luxury condo lifestyle. As the impending real estate crash loomed, Aaron identified SocialMiami, a society blog with highly targeted following. After creating a business strategy designed to transform the platform into an online glossy magazine, Aaron became publisher, and the platform increased in revenue and site visitors by 10 times. He developed partnerships and marketing strategies with many of Miami's most powerful brands, and created viral editorial strategies that highlighted the city's greatest influencers. Additionally, Aaron became more involved with his community, sitting on committees and raising funds for Baptist Health, Miami Children's Museum, Miami Children's Hospital, YoungArts and many more. Aaron is currently a board member of Miami Theater Center and in 2015 was honored as a Miracle Maker by the Women's Committee of Big Brothers Big Sisters of Greater Miami. That same year, Aaron returned to the stage playing Richard Sherman in The Seven Year Itch at Miami Theater Center. His new media venture, Current.Miami, is a video-based digital media platform with an emphasis on storytelling.