Cubanisms: The Multicultural Couple
Today we meet an amazing multicultural couple living in Miami Beach, Jose B. Aleman and his wife, John Elizabeth. She was born in the Untied States, as were her parents and grandparents. He too was born here, but is of Cuban descent. His parents were born in Cuba, forced to leave by the revolution. The Aleman's story echoes many in the Magic City and is a fascinating characteristic of the current Miami.
The American/Cuban dynamic is unique nationally, but more commonplace in Miami. Although some aspects of their relationship are like many healthy marriages, theirs has specific nuances.
For instance, as John explains, Thanksgiving has all of the traditional American dishes and side dishes. But the Cuban element brings a roasted pig to the table, which is cooked in a box called a caja china.
The Alemans also define Cuban Time. JB defines this Cubanism as being anything from being 15 minutes late to a business meeting to being two hours late for a party. He slightly romanticizes the colloquialism as simply a quirky piece of Cuban behavior.
A Miami Beach commissioner and businesswoman with a propensity toward punctuality, John defines Cuban Time as her waiting 45 minutes for people to arrive.
The couple also touches on the relationship between their kids and JB's mother. After being here for more than 50 years, his mother still speaks very little English. Their kids speak very little Spanish making communication with the older generation more difficult.
The Aleman's story echoes many in the Magic City and is a fascinating characteristic of the current Miami.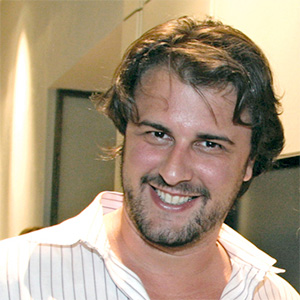 Aaron Glickman is a Miami native. After earning his degree in theatre from Florida State University, Aaron headed west to Los Angeles where he lived and worked for a decade. In 2006, he came home to launch Luxury Condo Living magazine – a print publication that covered the luxury condo lifestyle. As the impending real estate crash loomed, Aaron identified SocialMiami, a society blog with highly targeted following. After creating a business strategy designed to transform the platform into an online glossy magazine, Aaron became publisher, and the platform increased in revenue and site visitors by 10 times. He developed partnerships and marketing strategies with many of Miami's most powerful brands, and created viral editorial strategies that highlighted the city's greatest influencers. Additionally, Aaron became more involved with his community, sitting on committees and raising funds for Baptist Health, Miami Children's Museum, Miami Children's Hospital, YoungArts and many more. Aaron is currently a board member of Miami Theater Center and in 2015 was honored as a Miracle Maker by the Women's Committee of Big Brothers Big Sisters of Greater Miami. That same year, Aaron returned to the stage playing Richard Sherman in The Seven Year Itch at Miami Theater Center. His new media venture, Current.Miami, is a video-based digital media platform with an emphasis on storytelling.