Broward Cultural Division's Public Art & Design program is pleased to announce the addition of four new site-specific, public art installations at Broward County's Fort Lauderdale-Hollywood International Airport (FLL). Created by nationally and internationally-recognized artists, the new public art includes: Cloudscape, an interactive sculptural environment by Volkan Alkanoglu; Sunrise to Sunset, an architectural glass wall installation by Gordon Huether; Centro de Formacao, a wall painting of ceramic tiles by Sarah Morris; and Wavelength, a suspended sculpture by Emily White. The artworks are on display in the airport's new Terminal 1 / Concourse A.
The artworks were commissioned through a partnership between Broward County Public Art & Design and the Broward County Aviation Department. They were installed as part of the FLL Improvement and Renovation Program, a $295 million project that added a new concourse to Terminal 1 and is modernizing existing facilities.
"Public art enhances travelers' experiences in a variety of exciting and unexpected ways. We are delighted to bring FLL passengers four new artworks representing a broad range of materials and artistic concepts by these innovative artists," said Leslie Fordham, Public Art & Design Administrator for Broward Cultural Division.
Situated in a sky-blue space with a series of white, cloud-shaped furniture and pavilions, Massachusetts-based designer Volkan Alkanoglu's interactive Cloudscape is an artwork that provides a safe and unique environment for children's activity and exploration. Assembled like a large three-dimensional puzzle with billowy and dynamic shapes, Cloudscape's inter-connected abstract forms appear to change and move as clouds do in the sky.
Sunrise to Sunset, California-based artist Gordon Huether's large-scale, glass wall installation creates a stunning sea of light and color visible to motorists, pedestrians and travelers approaching Terminal 1 and entering the building's meet and greet area. In creating the work, Huether imagined millions of photons that are interpreted by the brain as color, and reimagined them as individual squares of light, broken apart and becoming more distinct as they grow distant. Blue glass was fabricated with hand-applied enamels to evoke the ocean at dawn, with an expanding grid of oranges, reds, yellows and pinks capturing the sunrise.
FLL's role as an international gateway is reflected in Centro de Formacao, a vibrant 396-foot wall painting of custom-made ceramic tiles designed by internationally-renowned artist Sarah Morris. Through its evolving spectrum of color and use of geometric forms, the dynamic work, whose Portuguese title means Center of Formation, explores concepts of motion, travel and social space, illustrating the movements of both pedestrians and flora shifting through time and space, crystalized into color.
Emily White's suspended sculpture Wavelength was inspired by the way light transforms into color when it refracts through water. To create the work, White distilled water into distinct bands of color, and developed a spectrum of pure colors that convey the qualities of light on the Atlantic Ocean in South Florida. The sculpture is suspended overhead in the ellipse area of the terminal and reveals a spectrum of vibrant blues, greens and purples as passengers make their way along the concourse.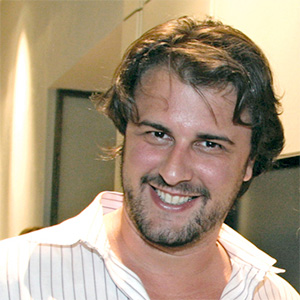 Aaron Glickman is a Miami native. After earning his degree in theatre from Florida State University, Aaron headed west to Los Angeles where he lived and worked for a decade. In 2006, he came home to launch Luxury Condo Living magazine – a print publication that covered the luxury condo lifestyle. As the impending real estate crash loomed, Aaron identified SocialMiami, a society blog with highly targeted following. After creating a business strategy designed to transform the platform into an online glossy magazine, Aaron became publisher, and the platform increased in revenue and site visitors by 10 times. He developed partnerships and marketing strategies with many of Miami's most powerful brands, and created viral editorial strategies that highlighted the city's greatest influencers. Additionally, Aaron became more involved with his community, sitting on committees and raising funds for Baptist Health, Miami Children's Museum, Miami Children's Hospital, YoungArts and many more. Aaron is currently a board member of Miami Theater Center and in 2015 was honored as a Miracle Maker by the Women's Committee of Big Brothers Big Sisters of Greater Miami. That same year, Aaron returned to the stage playing Richard Sherman in The Seven Year Itch at Miami Theater Center. His new media venture, Current.Miami, is a video-based digital media platform with an emphasis on storytelling.